In my academic work I am active in documenting, researching, and writing about hilt-and-point sword dance. I am a dance anthropologist/ethnochoreologist currently finishing my Masters and writing on the judge's perspective in dance adjudication, focusing on the annual DERT rapper dance tournament.  Here are some of the research projects I am involved in.
You can find my academic writing on dance here. I am interested in questions of cultural dance aesthetics, choreomusical relations, dance adjudication, identity formation, and kinesthetic awareness.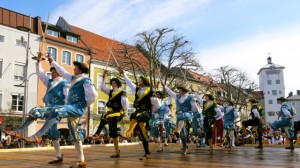 Working in eleven countries, I recorded dances and conducted interviews with dancers from over thirty groups of hilt-and-point sword dance. I also conducted archival research, learned many of the dances, and performed with several of the groups. You can find much of the research on this site, or view the blog I mantained during the project at the link above. The project was made possible with support of a fellowship from the Thomas J Watson Foundation.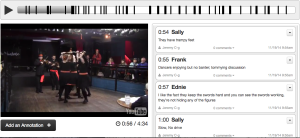 This is an investigation into the aesthetic concepts and strategies used by judges at the Dancing England Rapper Tournament to evaluate rapper sword dancing.I am interested in the layers of intersubjective discourse that allow adjudicators to transform an aesthetic experience into a primarily quantitative evaluation. Using a form of video-assisted interview, I am working to create temporal-aesthetic "maps" of competition dances, through which I am able to identify and discuss the marked, "aesthetically dense" moments of dance in contrast to relatively unmarked space surrounding them.
Using the maps of aesthetic importance as my guide, I investigate the shared and individual techniques of judging and explain major points of divergence between different judges' preferences and judging techniques as a result of personal dance history. Finally I seek to explore the effect of my research on the structure of the competition itself and potential future investigation.
The Sword Dance Documentation Project aims to illuminate the history of sword dancing Europe and North America, document the current state of sword dance today and lay the groundwork for a path forward celebrating these traditions and connecting dancers nationwide.   It consists of five distinct but interconnected modules, each of which speaks to one or more of these objectives. The first was a research project carried out in 2011-2012 on European sword dance. Second is a census of sword dance groups and dancers to gather data and understand the landscape of sword dance today. The third will trace the lineage of sword dancing over the past century. The forth is a video documentation project and archive of every team in the USA and UK. The Sword Dance Documentation Project will culminate with the first national American sword dance festival, bringing together dancers, sharing dances, presenting research, and drawing public attention.